Home > English > Music > Sage Francis
Sage Francis
The personal journals of a makeshift patriot...
Wednesday 18 February 2004, by Paul Kirkness
Sage Francis is launching into his own personal "Fuck Clear Channel tour", aimed against the huge american corporation and its manipulations. This gives us the long awaited opportunity to give praise to this genius of the underground hip-hop scene. When it comes to slam or spoken word, Sage Francis is a reference. But he has shown himself to be a great artist with the heart of a political animal...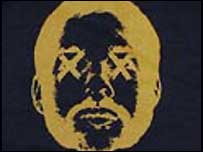 He's at it again... Sage Francis is simply an embarrassment as an American citizen. First, what got me were the lyrics he had in the Makeshift Patriot EP where he basically hammered at the basic lack of US culture and the supposed disappearance of individual liberties. This guy can't keep his mouth shut! And now what is he doing? Well, he is launching a tour around the States, with the crude name of "Fuck Clear Channel tour"! No respect...
For those of you who read this first paragraph and thought, "What's wrong with that...?". Perhaps I can reassure you by underlining the fact that what actually got me listening to Sage Francis was the fact that he was politicised.
The man has won practically every competition and championship that he entered. He became famous all along the East coast for his amazing qualities as a spoken word artist. Already his lyrics and rapping was political. During the numerous freestyle battle championships in which he took part (and which he won) he made a point of getting at the "system". All this, and more, has made him the equal of a Saul Williams when it comes to slam. But to get to that level takes time... and Sage Francis spent that time practising and jamming with other artists at gigs. In the first years, it is said that he had to go around selling his own bootleg CD-R's and demo tapes to pay for his rent. I think we can clearly say that, even today with the respect he has acquired, he still isn't exactly a millionaire. The least one can say that Sage Francis has earned his great reputation.
But above all, Sage Francis forged his name through hard work and through the evolutions he has made as an MC... We know enough about Sage Francis is a sort of super ego for Paul Francis. And Paul Francis - the real Sage - just doesn't seem to stop. He has toured the US with both Atmosphere and Anticon. He has recorded material with the band Art Official Intelligence (AOI) and proceeded to go on tour with them.
More recently, he has become a member of the Non-Prophets, his Rhode Island side-project, with Joe Beats and DJ Perseus. This has led him to move away from the Anticon crew which he seems to be rejecting recently. The bands web-site features an mp3 labelled the "Anticon Diss Song" (which is not written by the Non-Prophets). This may well be a reaction he developed while the critics and the press persists in viewing him to be one of the Anticon gang. Well he isn't... Doseone (one of the most famous singers from Anticon) qualifies his own music as emo-rap. That is not to the liking of our friend Sage who feels far away from any label on his music, especially if its going to be called "emo-rap". Any chance he gets, he'll tell you he feels as far apart from Anticon's music as he does from gangsta rap and Ice-T...
Indeed, his reputation is not that of a friendly, laughable character. According to the rapper Buck 65 (another genius when it comes to slam and spoken word), Sage Francis can go for weeks without talking to anyone. It is no surprise. Francis is a strong believer in Straight-Edge culture and lives a live of an ascetic when it comes to drugs and meat. But he also appears to have other powerful messages to put across - sex and spirituality are subjects which he approaches with great honesty and intelligence.
So what was all this about the strangely named "Fuck Clear Channel tour"? Well, it is basically a tour against the homogenization of the media.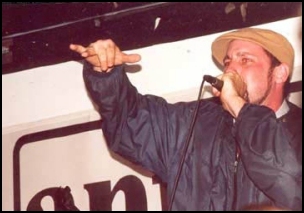 Europeans may not know them (yet) but Clear Channel is a huge corporation over in the States. They have been investigated for violating the anti-trust laws in the US but evidently the current government does not seem too worried about giant corporations getting larger. Clear Channel buys radio staion after radio station, hence controlling most of the radio-wave information in certain States. When it comes to passing bands on these radios, you can be sure that the Clear Channel record label (what they own seems endless) has a word here.
So the tour is also in defense of the independent music scene which is under attack in the USA. And here Clear Channel comes in and lends a hand. With corporate dollars and dirty tricks, the company has succeeded in sinking many underground music clubs... So lets all hope that Francis' message will take on...
"All those people said I wouldn't last... Don't make me laugh"
Polo
Personal Journals

From Makeshift Patriot to the 2002 release of Personal Journals, the evolution is enormous. This is not to say that the first LP was poor in any respect. Rather, it is to underline the enormous variety that one is exposed to with Sage Francis. The album is extraordinary - it is a concept album relating the life of a ficticious guy. The genius is the way Sage Francis puts it accross as being his own.
We discover that Sage is not only a political singer. Personal Journals has entire tracks dedicated to the insides of his refrigerator or mullet hair cuts.
The beats are really efficient and combine brilliantly to the vocals and lyrics. A particular favorite of mine: "Inherited Scars" and the great sax parts which, intertwined with the drum beats, give the track a superb touch...
A master-piece.
Polo
Any message or comments?