Home > English > Music > DJ Shadow - Our favourite DJ saviour [part 1 : The musician]
DJ Shadow - Our favourite DJ saviour [part 1 : The musician]
Wednesday 14 July 2004, by arthur, David Charlot
Where should I start endtroducing this shadowy yet bright creative composer ? Here in France who knows about my favorite DJ Savior except the underground circles of what they call "abstract hip-hop" ? Just a few fans of the Quannum crew or Sole Sides listeners... Well the man doesn't want to be part of the mainstream anyway, but then who would ?
INTRODUCTION
The Shadow, aka Josh Davis, is prolific, avant-gardiste, savior of hip-hop... a genius and musik-art maker.
The man works with vinyls, and vinyls that he's been collecting since his first "Street Beats Two", a Sugar Hill Records compilation he bought with his own money in 1982. Endtroducing... DJ SHADOW (1996, Mo Wax), his first full LP contains nontheless about 1000 samples !
Yes, Shadow is serious, and good at it; he has played with a wide range of artists, with pop-rock singers on Psyence Fiction with UNKLE (1998, Mo Wax/London records), as well as with the Quannum MC's. His instrument by essence is turntables, but he masters the accompagnying tools, also necessary for his composition, I mean MPC, samplers and other electronic loop making instruments.... His sources? Mr Shadow uses music to make music... from funk to old school-rap, using Bjork's voice, Shadow uncovers all sorts of rhythms, melodies forgotten or hidden tapes are digged out and blended, heated, chillied or fried, but never burned... the sauce is usually perfect!
But let me not be misunderstood, the epicenter stays music, no abusive scratches, only a will to make hip-hop survive, evolve in a non-street-to-media type of music, what I would call evolutive or progressive hip-hop as opposed to voyeur-radio-hip-hop. Endtroducing... DJ SHADOW, mainly "instrumental" LP gives us an idea of what Shadow is capable of producing and composing: a well wrapped sensitive mix of fresh-aired songs, unstoppable drum rhythms, sweet melodies between depressing moods and funky beats, Shadow opens hip-hop to old-rap listeners, older generations could also find their marks in rock attitudes....
How it starts : The vinyl digging.
As seen in Scratch the documentary by Doug Pray, DJs spend more time in their local vinyl shop than at their girl friend's place!! These music geeks spend their time searching for that sound or that beat that they'll put on repeat mode for our greatest pleasure. Four notes of a guitar, or a lovely "Hey YOU ... Martial Arts Fan are you ready to get your guts kicked out?" in Brainfreeze are not as easy to find as you think. Actually it seems easier to ask someone to play those four notes on the guitar rather than spending an entire year searching for it in a store's basement. But that what Shadow does for a living!
Like KBILLY'S Super sounds of the 70s, DJ Shadow diffuses groovy bits of the music from that period of time, music that has got soul. His digging of vinyls is carried by the thought that amongst the load of crap that lays in all basement there is always a part of genious, a series of notes of music that sounds marvellous. Like a researcher, one has to analyse the music not as a whole but as a series of notes that follow each other and that can be dismantle... like judging a computer program by looking at its code. He builds up a new puzzle with an old one.
But don't worry, he makes music, he doesn't copy it or make a simple patch work...
His solo(ish) work...
Shadow started as a DJ for Erik B & Rakim, of Ultramagnetic and of Public Enemy.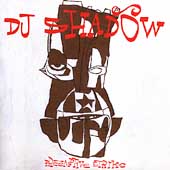 Preemptive Strike was released in january 1998, this album was in fact post-dated after Endtroducing... DJ SHADOW but was made before... the songs are remixes but still offer an interesting look at Shadow's debut. Whereas Endtroducing is a well shaped album, ready to be sold to the masses, this preemptive strike sounds more sketchy, more familiar, more touching. The 12 minute "In/Flux" song leaves you asking for more of his powerful melodies, and the simplicity of it all is addictive... This album is his most beat-centric work, the love of jazz and funk drummers is overwhelming, cut and paste artist will find a paradise of samples...
The cover by Phil Frost - San Fransisco painter - describes the song "What Does Your Soul Look Like?". (check out the site : Phil Frost)
The masterpiece : Endtroducing... DJ SHADOW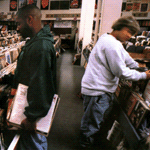 Released in 1996, Shadow struck hard with this must-have album... The genious revealed himself as a DJ and proved that DJs can also be artists... a revolution in the world of Hip Hop. Actually, it's neither rap, nor hip hop, nor funk nor ambient alone since it can be all of these genres or simply none. It breaks through the boundaries of genre, and he sets itself as a pioneer opening people's minds to modern music made with music... I started with DJ Shadow, then discovered the japanese DJ Krush. Powerful, dramatic, but gentle and subtle, available to all listeners, this album is a piece of art. Soothing in times of rush, "Transmission 2" or "Midnight in a Perfect World" could make you cry ; or hard beat funky percussions for the more energetic moods, "The Number Song" and "Mutual Slump" will remind you that Shadow is worthy of his title of DeeJay. And if you are familiar with Shadow's works, you will recognise the samples he himself can only find : "Organ Donor", "Stem/Long Stem" ...
Simply Beautiful, this album has nothing to lose, and every DJ should learn from Shadow's musical skills... One of the admirable talents he has, is putting forward other people's work with his humble touch. Filling his work with the respect he has for other people's art.
(If you were wondering who were the guys on the cover : On the back is Beni B, founder of ABB records, front left is Chief Xcel of Blackalicious and front right is Lyrics Born of Latyrx (in a wig!))
Blending musics and sounds, Shadow has created an original form of music.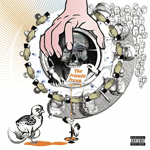 In 2002, after a great number of collaborations (that we will look into in following parts), comes out unexpectedly his 3rd album : Private Press. Unlike Endtroducing, this album does not bring instant pleasure. I must say that the first time I heard it I was a bit dissapointed. The learning curve is not that steep. We know there is genius hidden away behind those vinyls and samples. And you obviously end up loving it. Shadow remains in the shadows and keeps on searching for the little artists: "'The Private Press' is my homage to all those unheralded musicians who produced their own output and presented it earnestly to an often indifferent public" says he. I like that! (Says I!). Why is it that albums that grow on you always end up being amazingly good?
This album distinguishes itself from his previous work. As he masters his tools and can detach from his (positive) geeky reclusive workhoolic music making, he opens his studio to fellow 'living' artists... As if a film maker, after creating his own universe (Endtroducing..., Preemptive Strike), moves on to participating to collaborative work (Unkle, all collaborations up to 2002), finally reach the stage of directing his own personnal project.
Conclusion
I hope one and each of you will have realised that DJ Shadow is, by essence, an artist, not just a DJ, a pionneer in the world of Hip Hop music and of contemporary electronic music... But the man, who already knows how to give homage to unheralded musicians, also likes to share his talent and always lends a hand to his fellow rappers [see part 3 : Lives and Productions] or share his skills [see part 2 : Collaborations].
Any message or comments?