Home > English > Music > Stereo Pictures - a growing collection
Stereo Pictures - a growing collection
Motion picture meets electronic music
Sunday 4 April 2004, by arthur, Christopher Montel
The Stereo Pictures project was started back in the late 1990s in France, by a newly created musical division of MK2 ( an 'independent' film distributor). But at first glance, the idea of compiling movie and sound samples may sound rather cheap, a step further in a tendency for sound recycling and revival since the 1990s, and was first recieved rather sceptically.
Nevertheless, Jean-Yves Leloup, the project initiator, brought out and affirmed in the music scene a form of sampling and mixing which has been burgeoning for years but never got the credit it deserved. Instead of simply borrowing the evocative power of cult movies and soundtracks, several groups, such as The Troublemakers in Marseille, have used movie and sound samples to structure virtual films of their own.
Sound alone is here both the basis for a story and its expression. Words and conversations are deliberately stripped of their initial context, to be used only for the evocative power they represent. But the album is structured not according to a definite scenario, the whole idea being to allow new and spontaneous creations of stories and situations.

[VOLUME 1 - Radiomentale - the cut up scenario]
The first volume of the Stereo Pictures is hard to find in stores as well as the internet. Its an introductory work to the Stereo Pictures project, made by Leloup himself and collaborators.
Out of the three volumes already released, Radiomentale-The Cut-up Scenario is by far the most abstract and experimental, first of all because it is obviously the first installment, and was made more to inspire as well as laying the basic structures for future projects.
But this volume is highly experimental most of all because it the most structured: the basic idea behind the Stereopictures is precisely to experiment the creation of an imaginary movie out of a patchwork of sounds. Whereas the following albums will follow this line in a more subtle and implicit way, Radiomentale wants to make these goals blatantly apparent.
You can clearly understand the beginning/climax/end structure of the album, most of all since the soundtracks used are so abstract- most of them being excerpts from abstract jazz music.
The names of the album's seven sequences evoke maybe too precisely the storyline, with titles such as "A crash in Alaska", "the polar conspiracy", or "party at the arctic club", and thus confines to a specific context the potentially unlimited interpretations. But Radiomentale-The Cut-Up Scenario remains an excellent introductory work to The StereoPictures.
[VOLUME 2 - The Troublemakers]
This second volume of The Stereo Pictures was given to The Troublemakers, from Marseilles, a group that had already proven its particular talent in combining music and movie excerpts in their previous albums. Their work goes well beyond simple testing of voices and sounds.
The Stereo Pictures had no problem giving The Troublemakers entire freedom in how to shape their vision of the movie-sound combo, since these guys have worked on it from day one as their main musical inspiration and structure. They work essentially on an ever-growing sound libray, samples and movie tracks.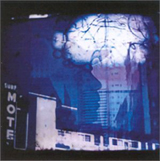 The stereo picture according to The Troublemakers, particularly their archiveman Arnaud Taillefer, is about Black Civic activism and popculture- namely the 1970s Blaxploitation movies. The Troublemakers' inspirational talent however resides in their ability to suggest a mindframe- The Black activist community of the 1970s and the culture which has developed out of it ever since- out of a fairly diverse sound patchwork.
Only one sample, Donald Byrd's Wilford's Gone, actually comes from a Blaxploitation movie soundtrack. The rest ranges from Yussef Lateef's oriental jazz masterpiece Passaglia (Also used by Iam in l'Ecole du Micro d'Argent as a background sample for a revival of Sergio Leone's Western movies) to Eddie Hendrix's People...Hold on. And its what makes the difference.
A Trouble-made sound remix is sufficiently blurred to have a significance of its own. The diversity of the material used testifies that for from wanting to stereotype their message, The Troublemakers open new and unprecedented ways to interpret their chosen theme. They remind us that sound, as well as image, is only an instrument, and can be used, stretched and distorted at will as long as the idea behind is clear.
[VOLUME 3 - DJ Vadim]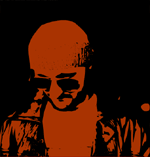 For this third installment, The Stereopictures has (finally) managed to get one of Ninja Tunes' most authoritative artists, DJ Vadim, to compile a scenario of sounds of his own, which came out in October 2003.
DJ Vadim starts off his mix brilliantly with a sample which goes a little something like this : "[...] and by the way our rock'n'roll craze came from France in the beginning [...]". I don't know if these allegations are correct but as the mix unrolls it feels more like the "craze" is emanating from some turntables in Russia.
The DJ Vadim mix is a bit disappointing for those who know the artists that revolve around his musical world. Skinny Man, Slug appears once more on the side of their russian friend. The tracks are good, but the "added value" doesn't transpire, the mixed transitions are not amazing.
We must note that the track by DJ Food "The breaks" is an absolute most of sampling culture. The phat bass line is awarded to super furry animals with "touch sens". As will all editions of this collection a number of voice samples catch our attention. "Communism is a religion. Communism is the religion of the devil.[...]" is one of them, a long reverentious attack of communism which is quite in context with character, you figure out which way it's supposed to go. Follows a sample of "back to mother land" repeated over and over again.
To conclude, this is more a compilation than a transending journey through a motion picture influenced musical trip. Yet, the compilation is composed of exquisite content.
[VOLUME 4 - Howie B.]
The fourth opus will be mixed up by Howie B. (Pussyfoot records.) and we are patiently waiting for it. Detractors have already been politely dismissing this future release, the artist supposedly being unable to meet the challenge left by these first three albums. But no need to speculate blindly any further on something that could be, once more, a strike.
Any message or comments?