Home > English > Music > Dillinger Escape Plan in Oslo
22 June 2004
Dillinger Escape Plan in Oslo
Explosive...
Tuesday 24 August 2004, by Axel Butler
Just so you know, bands don't often make it to Oslo. Although this is the capital of Norway, I often have to wait for years before a band decides to swing by for a quick concert. This is exactly what happened with The Dillinger Escape Plan. And they finally came! My expectations where high to say the least. Anyone who has heard of this band will know that they have a reputation for their live perfomance... and I now know that they indeed are something special!
Let's just say I was excited. I discovered The Dillinger Escape Plan with Calculating Infinity and have followed them closely ever since. This gig was to be interesting. First of all I was excited about the way the new vocalist was to sound. I had only heard him on the track "Baby's first coffin" and I must say that I really liked what I heard but I was curious - could he pull it off live? Secondly, I had enjoyed the latest album (Miss Machine which came out earlier this year) most of all and I wanted to hear some of these new songs.
To my dissapointment they didn't play that many songs from the new album, so I didn't get to really appreciate the vocal abillities of Greg Puciato. They did however play some songs from their EP Irony is a dead scene, without Mike Patton, but Greg pulled it off impressively well! He definetly adds a new dimension to their sound.
This was a hectic concert and objects were flying throughout. At the very beginning, somebody managed to hit one of the lights that light up the stage so that it was barely hanging on and lit up the crowd instead of the band. It made for a bizarre concert atmosphere... But the band just rolled on... without even noticing, I believe...
Dillinger are known for their stage presence, and even though they were not as extraordinary as I had expected it is difficult to be dissapointed.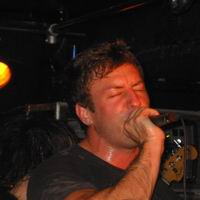 From what I had heard, they normally tend to use lots of differents lights like flashing strobes and color lights. They have even been known to breath fire onstage (but had to stop due to the Great White incident in the US where a whole club burned down). Here in Norway we didn't get those luxuries, instead I had the feeling that half the lighting was on the crowd, and it was often hard to see what was going on stage. Obviously, I didn't come to see a lighting show - I came to see an ingenious band play their music live and, thanks to their music and the sheer energy they manage to create, I had a great time! Just seeing them play their instruments live, with all the technical genius that they give off, is and impressive sight enough.
The whole thing lasted almost an hour and I appreciated every minute of it. To sum it up in one word: Intense!
Word of warning: to really enjoy their live experience, one should really have heard their songs beforehand. Not being able to recognize one jewel from another during a live show may well turn your experience into something close to a noise fest. If you meet up prepared you'll get an experience of a life-time!!
Axel
Any message or comments?