Home > English > Music > DJ Shadow - Our favourite DJ saviour [part 2 : Collaborations]
DJ Shadow - Our favourite DJ saviour [part 2 : Collaborations]
Monday 23 January 2006, by arthur, David Charlot
The first part of this review was dedicated to show DJ Shadow as a stand alone artist... This second part should reveal Shadow's ability to collaborate with artists of his own genre, eg. Cut Chemist, as well as with seemingly musically distant artists such as Thom Yorke from Radiohead.
Drum roll... after waiting for more than a year for this review, here it is finally!
All right stop, Collaborate and listen "Shadow's" back with his brand new edition!
Collaboration... Even before surfing on the top of success as a lone DJ, Shadow played for other musicians, or with other celebrities. But his energy is also spent in producing his friends' albums or by mixing with famous DJs.
Collaboration

U.N.K.L.E. (DJ Shadow and James Lavelle): Psyence Fiction (1998 - Mo' Wax) :
This album fits perfectly in this section.
Behind the enigmatic 5 letter word suggesting either a UN branch or a pack of cereals, hides a mysterious group or non-group. In order to understand UNKLE one has to turn over to James Lavelle's ambition to participate in the development of abstract Hip-hop, of which Mo' Wax had a major role.
Between 1994 and 1997, Tim Goldsworthy (now working with David Holmes) and Kudo (the japanese from Major Force), accompanied James Lavelle on a series of maxis.
But the real event occurred in 1998, when Lavelle found his new ally, the most ingenuous abstract hip-hopper around: DJ Shadow. Most accustomed to working solo, Shadow demonstrates here his adaptable talents in collaborating with others. Psyence Fiction reveals itself as a superproduction with a great casting. You can find Richard Arshcroft from The Verve and Thom 'Radiohead' Yorke, or even Mike D. from the Beastie Boys.
This album was certainly one of the most eclectic records to emerge from the electronic world that year, mixing hip-hop, alternative, and electronic styles in one and proving that these cultures can adequately blend in together.
Unfortunately I find that as a whole this album lacks homogeneity, and thus soul... the same upset can be felt concerning all other compilations I've heard so far.
Nevertheless you can take a look at the funky UNKLE web site: http://www.unkle.com/

QUANNUM
Quannum is a collection of some of the most interesting hip hop artists of the 90s. Located in the area of the Sacramento, California, artists such as Blackalicious, Latyrx and DJ Shadow had worked together under the wing of the Solesides collective, of which you can find a compilation called Solesides Greatest Bumps.
So in 1999, Dj Shadow creates the "label" Quannum projects with his friends from Solesides, where he produces, and accompanies artists on the turntables.
Well... since Quannum is one of Shadow's most important projects, one where he can play a part in making the underground hip hop scene break through to the light, there should really be an independent review written. In such a case it is better to leave this project to later!
DARK DAYS
In 2000, DJ Shadow contributed to the making of the music of the amazing film Dark Days. As far as we know, there is no bad pun. Dark Days is a documentary about the Mole people who have made of the New York Underground their home. It is truly moving and the Shadow's music helps create the necessary atmospheres while Pray's camera sways in and out of the ground, interviewing the people of the dark.
Only two tracks were made for this movie, "Main Theme", and "Spoken for Mix", and the less he does, the better it gets. The first song is melancholic and eerie, whereas the second is darker and more manic, just imagine the underground coming to you.
[DJ SHADOW & CUT CHEMIST]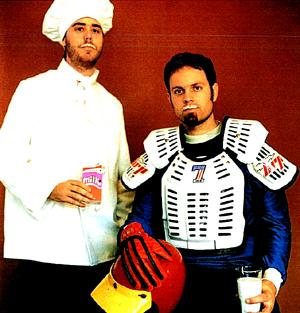 Separated they are brilliant, together they are unbeatable!
First of all, Cut Chemist: he DeeJays for Jurassic 5 and Ozomatli; he's done some solo mixes such as Lesson 6 and you can find some other collaborations on The Ultimate Lessons notably with artists like Steinski, Shortkut, and Dj Shadow; The Litmus Test, which is a 26 minutes mix of all his work with his different bands over the years. This last mix is the essence of Cut Chemist's art and the real hip hop fans should have this in their personal collection.
And Cut Chemist has eventually played with DJ Shadow for different shows such as Freeze or Brainfreeze or Product Replacement which you can find live on video or in the studio whilst rehearsing for the live show.
Briefly we could just say Cut Chemist has a vitality of his own whereas DJ Shadow is more subtle and ingenious.
The first one tends to put dancers on fire whilst the second one will send your mind outta space.
One day a friend of ours comes by and tells us that there's this piece done jointly by DJ Shadow and Cut Chemist, that it's a recording of a rehearsal they did for this show they were putting up together. Now that sounds cool already. Add to that the concept of only playing 45inch vinyls... So the album has two tracks that both amount to 25 minutes of pure pleasure and mixes. We love it! It's the BRAINFREEZE! "a non stop live mix of strictly 45's and exercice in vinyl destruction". Slurp slurp!!
Gathered in front of our two genious' 50 people could appreciate the destruction of the 30 vinyls each!
With hard groove like Hey Joyce by Lou Courtney or The Nu People : I'd be nowhere without you , funky songs such as funky DJ by Fried Chicken.
To get a glimpse at both of these artists work and habits, just take a leap into the brain tickling movie called Scratch.
ZACK DE LA ROCHA AND DJ SHADOW
In 2003, DJ Shadow was designated as producer for Zack de la Rocha's first solo album after leaving RATM (RAGE AGAINST THE MACHINE). Although no album has yet been released, one famous song, freely distributed on the net, was released in opposition to american military actions in the Middle East, and especially in Irak. The March of Death is a hard flavoured rock song in the verve of RATM, although we find DJ Shadow behind the wheels of saturation. Whilst Zack de la Rocha is preeching against a blinded america, and for the eradication of ignorant violations of american's right to information, Shadow musically hits us in the face to make Rocha's words penetrate harder. Because this song is a pamphlet for our awakening it's raw and brutal... just what we needed to get the message!
Three other titles were produced at the time but never issued... and we're still waiting for their official release!
[SIX DAYS and WONG KAR-WAI]
Most surprisingly, Shadow invited Hong-Kong's reknowned film director Wong Kar-Wai to shoot a video for the Private Press' most melancholic song Six Days. Among other films, we know Wong Kar-Wai for In the Mood for Love and more recently 2046, and for this magnificient video he concentrated a series of colourful sequences full of sadness and languidness.
The script tells the story of a man trying to erase all traces of his former lover only to realize the futility of the attempt.
Beautiful but short, this video brings Shadow's song to life and confirms that DJ Shadow has lots to express in his eclectic and heterogeneous repertoire.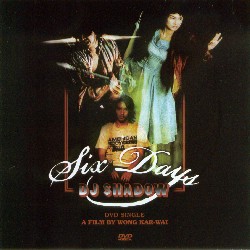 DJ Shadow's hybrid personality has led him to collaborate on many different grounds with some of today's most influencial artists whether it be musical or cinematographical domains. As a child of hip hop he has carried freely the beacon of a multicultural identity necessary to his work; diversity is the key word of this prominent artist.
In the next part of this review we will take a closer look at DJ Shadow's live appearances, some extra bits and pieces we'd like to promote and last but not least: his production projects, the bridge to more fantastic music made in shadow land.
Any message or comments?