Home > English > Music > Le Peuple de l'Herbe
The art of hybridism
Le Peuple de l'Herbe
Tuesday 5 July 2005, by arthur, Christopher Montel
There are two kinds of pot smokers. In most cases, THC severely hinders your ability to focus and stay concentrated, which explains why so many pot smokers are social failures, even amongst themselves. THC can however have the reverse effect, provided that you are one of the chosen few who can appreciate this herbal substance as a sap for inspiration and creativity. You may still be a social failure as far as mundane conversations go, but that just gives you more time to spend on things worth your while.
As the Bill Hicksian precept goes, and unless you listen to Christian Rock Bands or Moby, it's impossible to listen and appreciate modern day music without recognizing the positive influence drug consumption has on musical creativity. Some songs have become emblematic simply because they openly praised LSD in the sixties or cocaine in the seventies.
Cab Calloway had already sung The Reefer Man back in 1932, but cannabis truly became the single most legally advertized illegal substance in the history of music with the worldwide expansion of Hip Hop culture. Whereas legislation toughened and made no distinction between marijuana and harder drugs (except for alcohol, which is legalized) a whole industry of cannabis paraphernalia sprung up, selling bongs, roach packs, t-shirts, posters with aliens smoking reefers at university campus fairs and concerts.
Cannabis was to become the first politically correct illegal drug. Cypress Hill amongst others could overtly publicize their sympathies for marijuana without any real fear of censorship. What would have happened had they put the picture of a guy lighting up a crack pipe?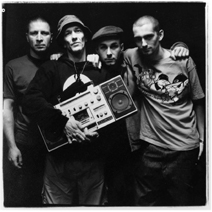 And yet all these facts turn out to be irrelevant once you listen to Le Peuple de l'Herbe, which has brought since 1997 one of the most creative and innovative sounds from Lyon, France. At the end of the nineties, two DJs, Stani and Py (read it as Pee), got to work on their sounds together, and started already looking pretty far ahead by creating their own label Supadope.
Rule number one: Long-lasting plants are those whose blossoming is best prepared
Since 1996, the two DJs had been hosting the Groovambar sessions, where they freely developed what would become the foundation of their musical creativity, unrestrained eclecticism, with the ultimate aim of capturing a truly hybrid groove.
In the meantime, two musicians joined the band and made it what it is today: N'Zeng, the trumpeter, with a jazz-oriented background, and Psychotic, the drummer, more inclined towards rock beats. This partly explains Le Peuple de l'Herbe's unlimited eclecticism, although Hip Hop remains at the core of their sound.
Rule number two : make sure to have a fertile soil before planting your seeds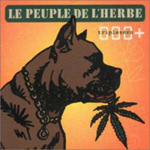 Their work, based in an underground music studio in Lyon, took three long years to blossom from down under. But these three years were anything but lost. The DJs and musicians had no problem blending in their talents, especially when it came to rework on sounds previously mixed. In 1999 three maxi vinyl albums came out of these first musical sessions: Reggaematik, THC T'aime and Raides Alertes, followed in 2000 by their first album, Triple Zero.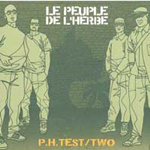 This initial blossoming was confirmed, less than two years later, with the release of PH test Two, in which all four reportedly learned to blend their skills more harmoniously. All sounds, recycled and original, were more carefully worked on and arranged. In this second album the band also started blending their work with Ukapache for the brilliant jungle based track No escape and JC 001, the human beat box, with whom they recorded the tracks 20 years gone and Mr Nice. Later in 2004 a separate maxi vynil devoted to Mr Nice will come out of this collaboration.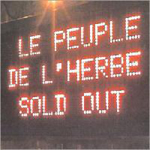 Rule number three : exposure is essential
In the meantime, Le Peuple de l'Herbe's performances on stage became phenomenal, and they remain today a band that must above all be seen Live. Outdoors, exposed to the wilderness of concerts, Le Peuple de l'Herbe still finds today the freedom to explore all kinds of variations and improvisations to its studio-based music.
Sold out, the third album (2004), was a very fortunate capture, as far as the history of music is concerned, of the energy released in their live performances. They simply made it available for you to listen back home with a "continous repeat" mode on. JC 001 has often been a special guest at their concerts, and we can only imagine his rendition of the entire repertory of beats - in beatbox, and hope its still not too late to catch both the band and its human beat box guest on stage.
Rule number four : plants must be dealt with care before growing too high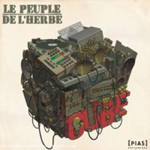 Ph Test Two had raised the stakes extremely high for the next album. Unsurprisingly when Cube finally came out after a few maxi vynils, its very large and very demanding fan base, including Soundsmag, were dissapointed not to feel the same magical touch and energy in the sound mixing. The initial blossoming of sounds had grown into a more mature and complex musical creativity and Cube eventually grows on you.
Funny thing to leave you on : Le Peuple de l'Herbe have a blog! It makes kind of sense, since a band always gives some form of feedback to its fan community, but it's the first time (and certainly not the last) we see this on the web. To be honest with you, the content wasn't thrilling but the concept is kind of neat (whatever you think about blog culture and the blogosphere). So if you want to follow what they are up to... you know what to do.
Any message or comments?