Home > English > Cinema > The Steven Soderbergh touch...
The Steven Soderbergh touch...
..the touch of brilliance
Sunday 30 September 2007, by arthur, Paul Kirkness
As Ocean's Thirteen was hitting the screens worldwide, we thought that the man behind the movie deserved one of our little general reviews. It is safe to say that Steven Soderbergh is one of the greatest American director's living today. He is the writer and director of such remarked films as Sex, Lies and Videotape and Out of Sight. But it is also him that we must thank for less renowned movies such as Schizopolis, Full Frontal or Kafka... Who are you Mr. Soderbergh ?
Steven was born in 1963 in Atlanta, Georgia, but his parents quickly moved to Baton Rouge, in Louisiana. It is there that he discovered film-making at the age of 15. At a time when most of his school friends were busy experimenting amazing new charm techniques on their female friends, Steven began shooting short films with second hand equipment. Sports, school and women were not really his forté... and so it was to be film-making. Amusingly enough, he claims to have been fairly poor at it at the time. And none of the results exist now for us to check that out.
When he reached the age of 23, the rock fan in him was to be rewarded. The band Yes asked him to come along and shoot a full length live performance of theirs. Steven Soderbergh was thrilled and went along with the project. In turn, at the end of 1986, he was awarded with a Grammy for the video that he had shot. Yes: 9012 Live was to be the beginning of a career which quickly strayed a little from rock and roll music. But all of the projects that Soderbergh worked on always had a little rock attitude in them.
Since the eighties, Stoberbergh has become something of a celebrity. He is the producer of over thirty movies. He has been the director of twenty of those films and his style, his touch, is highly valued world-wide. He is the central member of the small and exclusive gang of friends that include George Clooney, Brad Pitt, Julia Roberts, Sam Rockwell, Luis Guzman and Don Cheadle - among many others. But above all things, Steven Soderbergh is a genius creator and an artist.
The Yo-Yo years...
1989 was the year of the confirmation - out comes Sex, Lies and Videotape. This movie was highly acclaimed throughout the world. In it we find a strange mix of voyeurism and questioning about what it means to capture people's lives. This, Soderbergh does wonderfully in the film - and later, in every other film that he released under his name. To discuss the film without having outlined its artistic merits or the acting would almost appear sacrilegious. Indeed, James Spader appears as an extremely troubling bloke with a frightening honesty about him. And he is perfectly accompanied by a stunning Andie MacDowell. However, what one perceives immediately is the Soderbergh touch - the raw filming of the shots which could almost have been done in DV format; the lack of music and the uncomfortable silences... Sex, Lies and Videotape is nothing short of grand and deserves all the fantastic things that were said about it.
Two years later, Soderbergh decides to delve deeper into the artistic possibilities that the camera can allow. Kafka hits the world screens with Jeremy Irons interpreting the literary genius. The film is truly brilliant, with a pinch of Alfred Hitchcock and a spoonful of dark atmospheres. The fact that it is shot in black and white shows us to what extent Soderbergh can juggle with effects or the lack thereof. And the play between colour and black and white, which he does throughout the film, is particularly interesting.
As was the case with his next three movies - King of the Hill (1993), Underneath (1995) and Gray's Anatomy (1996) - the critics were not very enthusiastic about Kafka. But critics are easily disappointed after a master-piece. And Sex, Lies and Videotape left little space for fault...
Having complained bitterly that Steven Soderbergh was a one film man, a "has been" whose talents were nothing more than fluke, the media critics shut him off. And in doing so, they bypassed one of the director's wackiest and probably one of his most ingenious movies. We are talking about Schizopolis which came out the same year as Gray's Anatomy but made little or no noise at all. In it, Soderbergh directs himself and his then wife, Betsy Brantley. Together they are almost sane in the wacky world of characters like Elmo Oxygen or T. Azimuth Scwhitters... The first speaks an incredibly strange language and the second is a sort of feel-good doctor of the mind. Schizopolis was an experimental film in which Soderbergh lets loose his wildest ideas... Truly a must see for anyone who appreciates zany atmospheres and artistic madness.
The gang's all here
Soderbergh really became every Hollywood actor's dream director once he had launched the Out of Sight project. Featuring George Clooney (the beginning of a love-affair between the two men) and Jennifer Lopez (the first and last film they did together - is she really such a tough cookie on the set?), the film was released in 1998. Once again, we could hear the critics wailing. This was described as a mere little pop film launched by a strange director. How could someone who had attacked script-writing so sturdily now play with colour... How wrong these voices were. Had the critics even seen the film? Lopez was not famous then as she is now, hence one cannot assume that critics were reacting to her presence in the movie. So what made them so upset?
This is impossible for us to answer. Out of Sight is perfect in so many ways. Clooney and his acolyte the actor Ving Rhames are perfect in their roles as cool thieves with tender hearts. Non-criminal criminals in short. Don Cheadle and Isaiah Washington are extremely convincing as the opposite duo... nasty in every way. Returning to the film, one cannot but admire the filming, with its cuts, its rhythm and accelerations. All this happens on music by David Holmes which has now become a huge classic - and launched another love affair between the director and the DJ.
In order to continue our semi-chronological approach to Soderbergh, The Limey is probably one of most "indigestible" of the movies that he directed. A strong focus on its graphic was taken, the viewer can be easily put off by the cut'n'paste way of filming things that he took a liking to in Out of Sight. Here, the boundaries of the technique are pushed further yet. They come to define the style, sinking into our appreciation for Terence Stamp who is brilliantly directed on screen. It appears that, once again, ambiance is the key note to this film and the story will probably be quickly forgotten. The screen-shots and Terence Stamp's angry glaring blue eyes however, will not.
Like Jennifer Lopez, Terence Stamp never really made it into the "Soderbergh gang". Julia Roberts, however, did in a way. He first directed her in Erin Brokovitch, a daring portrait of the woman who fought polluting multinationals to help the poorest and most endangered US citizens. Roberts doesn't shine through as being altogether that amazing in the role. However, in many scenes, the actress demonstrates a seemingly hidden talent for acting. She does show off a strong personality and an ability to let go on screen. All in all, if one excludes the positive message and the great performance by Albert Finney, the film is not one of Steven's master works. On the other hand, that very same year, Traffic was released.
We could discuss Traffic for paragraphs on end. It is a key point in Soderbergh's effect on the film industry. A truly unique piece is born, putting together a string of amazing performances on screen. The director re-casts two of his favourite actors: Guzman and Cheadle. And with them appear Michael Douglas and his wife Catherine Zeta Jones but also, and especially, Benicio del Torro. Attempting to make a list of the later works that were inspired by its story-telling techniques and visual proficiency would be a lost cause. The film is apparently 3 hours long but at no point does the viewer ever want it to end. The description of US drug-war policy is spectacular.
And there we have it. Soderbergh took a little over ten years to become the "confirmed" director that we know him to be. And in that space of time, he became acquainted with someone who would end up being a best friend, George Clooney. After Out of Sight, when one of the two came up with a project, the other would always come backing him up on production or assisting on direction. Clooney's Confessions of a Dangerous Mind and his upcoming Syrianaare but two examples of Soderbergh helping out a friend. Clooney, on the other hand became the child prodigy actor and really helped in making Soderbergh what he is today.
Soderbergh makes it big
When Ocean's Eleven was released, it was even more obvious that a gang was formed for good - Clooney did the movie for free. Brad Pitt and Don Cheadle were paid a pittance... And this allowed for Steven Soderbergh to add to the style. Matt Damon and Julia Roberts as well as Elliott Gould - once seen in the cult-classic M.A.S.H. - all appeared in what can only be described as a rare reunion of acting talents. This was reiterated in the two sequels to this original cover-film (the first Ocean's Eleven was made in 1960 with Frank Sinatra, Sammy Davis Jr. and Dean Martin, amongst others). It is fascinating to see how tightly knit the little community of friends became. When the second in the series was announced, Damon stopped all other activities to concentrate on Ocean's Twelve. Even Bruce Willis, perhaps jealous of all this success, makes a amusing apparition.
Even though the year 2002 is very busy for Soderbergh, he still manages to franticly colaborate on other projects. It seems that the synergy with George Clooney in Out of Sight was meant to last. Clooney's brilliant first feature Confessions of a dangerous mind has our busy man as excutive producer. The collaborations only start to unfold.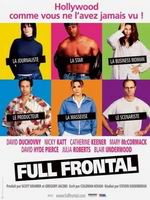 In Solaris Clooney and Natascha McElhone are reunited in an adaptation of Andrei Tarkovsky's 1972 classic, Solaryis. Both actors later claimed that the filming had been extremely intense with Soderbergh insisting on reaching perfection in every shot. Indeed, the task of adapting such a master-film must have been extremely challenging. Altogether, Soderbergh's efforts were not in vain. His version is swept with dream-like imagery and transports the viewer into a parallel world. Once again, Soderbergh exhibits his talent for non-conventional film making.
Released in the same year, Full Frontal is another one of Soderbergh's hilariously weird movies which attracted little attention from the media - Clooney wasn't in it. Could that be the reason?
Back to small(ish) productions
As a crack addict craving for his drug, Sodebergh still can't get enough. He might be competing with Mike Patton to be the busiest/most active artist on the plant. This year round, he's, once again, collaborating with Clooney on Unscripted.
Unscripted is an HBO series that pictures the daunting world of Hollywood in all is finesse. The project originates from Soderbergh and Clooney, and we really couldn't be disappointed. Indeed, series is an raising form artistic expression (yeah we know its been around for a while... but its getting good), and the challenge was tricky. Yet, this unusual series lives up to our expectations, definitely stands out of the plastic shaped panoply of such format. Soderbergh doesn't actually direct (except for the pilot), so Clooney and Grant Heslov do.
Soderbergh has been active elsewhere though. Eros is a project that he decided on making with Wong Kar Wai and Michelangelo Antonioni in 2004. Each of the three eminent directors have directed a segment in this analysis of love and sex. His part of the three is called "Equilibrium" with Robert Downey Jr and received little acclaim unfortunately. In 2005, he once again directed a minimalist film with Bubble, the analysis of small-town America when a murder is committed which links three people who work in a doll factory. Once again, the film is unnoticed and flops... Yet, it is extremely clever and highly entertaining.
What's next?
Having completed Ocean's Thirteen, which was extremely successful and The Good German, which was much less successful (although Clooney was in it!) Soderbergh will not rest. Originally planned for 2007 is a documentary which he will direct about the story-teller, Spalding Gray. Gray committed suicide in January 2004. He was a true friend of Soderbergh's ever since the making of Gray's Anatomy. There, Spalding Gray had starred as himself and shown off his incredible story-telling capabilities. The two were very close and the documentary will definitely be a tribute to look out for. Finally, The Argentine (or Guerilla, the title is of yet unclear) will be a relection on the life of Ernesto 'Che' Guevarra and will reunite Benicio Del Toro with the esteemed direcor.
Will our readers please excuse the sometimes too chronological writing of this article. It is the only way of truly coming to grips with Soderbergh's genius. Indeed, it is extremely complicated to sum up in words a man who has shown himself capable of working in so many various ways with other people of great talent.
Now let us await the coming marvels of Steven Soderbergh!
Any message or comments?