Home > English > Cinema > Alejandro González Iñárritu
The Mexican Connection
Alejandro González Iñárritu
Tuesday 27 July 2004, by arthur
As his second film is released and adored, we already feel like writing a "complete works" review. We have been blessed with a sort of faith... and we want to spread it.
Alejandro González Iñárritu has to this date only directed two full features : "Amores Perros" and "21 grams". His other contribution to the film industry are one of the BMW shorts (if you don't know what they are, look them up) and one of the shorts in "11'09''01 - September 11" a project that brought together a number of talented directors on a theme based collection of 11 minute shorts.
To begin with, this director made his name through being the mexican guy who'd made a really amazing film: Amores Perros. It was getting a lot of coverage, a lot of people were talking about it, there was some sort of controversy around the violence portrayed... missing this hype was not an option (although some times it's much better to ignore hype...). So we got our asses down to the cinema and became witnesses to the phenomenon, now WE were raving about it. Sure enough, the film was violent. It included scenes of murder, graphic dog fights, sex, drugs, and latino rock'n'roll.
Amores Perros is admirably well cut, with not a single frame letting you evade the frantic rhythm. The film is neatly cut out in three life paths which cross each other in tragic ways, this crossing not being a central focus but a means to link these profoundly touching stories.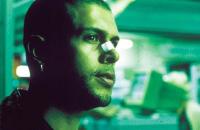 The expression of the similarities between physical violence and psychological violence is perfect. The three parts of the film are -or should be seen as- equally violent in hugely different ways. Never before has such a extreme link been portrayed with such pitch. To be able to put psychological and emotional violence on the same level as graphic violence is a large criticism of our society's approach to images. Relating the off-frame misery, questions the recuring show'n'tell, shock-as-much-as-you-can, voyeuristic, tip-of-the-iceberg attitude that fills our visual medias worldwide.
Alejandro Gonzalez Iñárritu is particularly skilled at using photography as a complete art in his films. Absorbing his films is like going to the pictures and going to art gallery exhibiting fantastic photography. Very much color coded as the brilliant "Traffic" by Sodenberg, the subtelty of his moods includes the spectator is his inquisite worlds.
It's easy for us to say now, the actors are promising, talented and make us forget they are actors (being the ultimate performance...). In particular Gael García Bernal (la Mala educación, Y tu mamá también) on most movie magazine covers these days... His admirable directing of these young talents later bought his way into working with some actors whose talent was already acquired.
Amores Perros ("Love's a bitch" / "Amour chiennes") is an unmisseable masterpiece, the kind that should convert your likings in cinema to a hobby or a passion.
---

The BMW short that he directed is rather striking. It definitelly stands out of the pack (among others : Ang Lee, John Woo, Tony Scott, etc.). Although some might argue that these are "long commercials" or "short filmercials", they still captivate us beyond the "buy our cars" message. And, in some sense, his work in this context seems to evade the most this concept. Elements of it are found in the fact that there is a gruesome dark portrayal of a distant reality : colombia's drug gangs. Blood all over the back seat of a BMW SUV doesn't exactly encourage people to buy their cars.
The photography and moods are bit like a badly shaved beard, dark and scruffy with great complexity. The rhythm is mastered with skill. Alejandro approches this short as student in film and scores an A+.
Admitedly, we really love Clive Owen (actor of main character in all these BWM films) because he is just so cool.
---

Alejandro's contribution to the "11'09''01 - September 11" project, is rather misterious, deceiving and yet we can't help to see energy and strength in this short piece. There are not many images in this short, simply archive images of people jumping off of the building, the towers falling. These are very short in a long stroke of a black image. Sound is the only guide in this darkness. We'd want to express our boredom, our deception, quickly say it's not any good but are unable. There are strong unspoken elements that we cannot deny in this minimalist piece.
---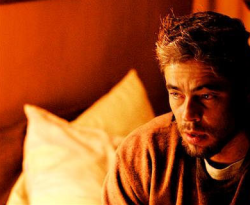 How could our expectations be any higher knowing that a film was directed by Alejandro Gonzalez Inarritu, with Sean Penn, Benicio del Toro, and produced by http://www.focusfeatures.com/? (One day we'll do a dossier about this generally excellent production company...). So after months of waiting (litterally) for it. It was released to our immense emotion. I will not weight my exaggerative words.
The movie revolves asynchronously around three main characters played brilliantly by Sean Penn, Benicio del Toro and Noami Watts. I won't bother to associate the two first with the movies they played in, but can mention that we discovered Noami Watts in "Mulholland Drive" by David Lynch. This crew is absolutelly amazingly directed and individually talented. From this film onwards when I think of del Toro I see his impressive figure as a ex-con reborn Christian in a pass which he takes as a challenge by God.
Inaritu plays with the timeline with the same ease as with his approach to color and film grain. The three converging stories are split up in a number of short sequences which build an amazing puzzle of storytelling. We hadn't seen such skill with showing us the past, the future and what we believe to be the present since the brilliant Memento by Christopher Nolan. We are brought into his world by a series of disjoint out of focus pieces of a jigsaw that falls into place with grace and emotion. Snippets of the future raise our attention and expectancies, further our understanding of causes and consequences. Déjà-vus are created as we return to crucial scenes to complete the vision or find another perspectives.
In 21 grams, the music revolves around a recuring theme which is rather repetetive, yet every time it reaches our ears, it touches us deeper and deeper. Like a magician or an expert charmer Alejandro González Iñárritu reaches out to our humanity, no cheap thrills allowed.
The emotional content could, at the hands of many other directors, fall into classic pitfalls of pompous tear provoking tales , but Inaritu finds all the subtlety to caress our inner self, our attempts to understand others people's lives and tragedies. A true masterpiece often ligthtly criticized.
---
Alejandro is currently working on a project that is spiking up expectency in the soundsmag headquater's corridors : "Paris, je t'aime". It is a project that will get together 20 directors to each film an 'arrondissement' (district) of Paris and yet build a coherent narrative stroke by assembling these shorts. We are hoping the best for this project, with directors such as Ethan Cohen, Tim Roth, Jean-Luc Godard, we are hoping not to be disappointed.
He is yet another director for whom we will have to follow every move, hoping and fearing about his next work of art...
Any message or comments?