Home > English > Politics > Hate crimes in the US
South-Asian American student battered to death in Orange, New Jersey
Hate crimes in the US
Sunday 23 November 2003, by Christopher Montel
"When the President of the United States can bomb a country because he perceives it to be a threat, then what moral authority does that government have to tell the bully on the street that he cannot beat on somebody because he perceives a threat?"
Bhairavi Desai, Director of the NY Taxi Workers alliance
This week, Nabeel Siddiqui, 24, a computer science major who had just graduated from New Jersey Institute of Technology, has died from a recent attack perpetrated in Orange, New Jersey, by three teenagers who beat him on the head with a baseball bat. The teenagers were apprehended and charged with assault, and not unsurprisingly were caught with a weapon. Two 17 year old and one 16 year old, armed, who believed they were doing right killing a man.
What kind of social and cultural system led to such conclusions in these kids' minds? What conversations did they hear, on TV or at the dinner table, that made them believe they could commit such a vicious and deliberate murder?
Hate-crimes against Arabs, Muslims and south Asians have risen sharply in the US since September 2001.The number of anti-Islamic biased crimes had officially risen from 36 in 2000 to 554 in 2001, and with the war in Irak is expected not to decline. There has been nevertheless a decrease in hate-crimes against ethnic Arab and South-Asian groups, from 1500 in 2001 to more than 600 in 2002. More recent figures are to be published by independent agencies, but the problem underlined by these agencies are that despite the Hate Crime Statistics Act of 1990, not all attacks are registered. Even if sometimes the victims tend not to declare the aggression, another reason is that the 1990 Act does not register attacks if there are no witnesses or if the case relies only on the victim's testimony.
Apart from murder, these categories suffer physical attacks, daily harassment, a deep sense of exclusion and fear, as well as an infringement on their constitutional rights. Recently, the Special Registration, enforced today and for an undefinite period of time as a policy, requires that most South-Asian and Arab Americans be fingerprinted, photographed, interrogated, detained, sometimes eventually to be deported.
There are two levels of discrimination against these categories. One is institutional and is part of the preemptive and "rational discrimination" methods of security and police agencies. About 1000 individuals are estimated to be detained by the US federal judiciary without any charges, and with no access to legal protection.Also, Arab Americans have suffered many side-effects of interrogation. A family which owned an Egyptian restaurant in Ohio saw its business plummet when news had spread about the recent detention and interrogation of its members by the FBI, which had confirmed by the way their total innocence.
The second level of discrimination is not directly related to government policies in the US, but is closely correlative to it. Arab and South-Asian Americans are the target of the nation's new-founded paranoia. Coupled with the deep-rooted american tradition of individual self-defense, the climate of fear, used by the government for reasons of internal security, has played an obvious part in influencing these teenagers to assassinate Nabeel Siddiqui.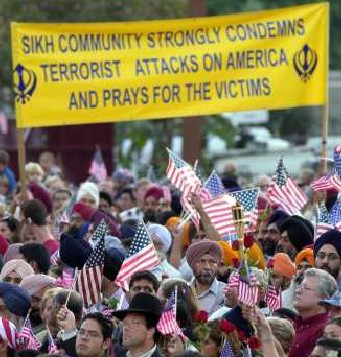 In the following days and weeks of the terrorist attacks on the WTC towers Georges W Bush had given a clear statement to the nation which heavily condemned hate-crimes against real or percieved Arab-Americans, but its policies in general are inconsistent with these declarations. The authorities do not condemn clearly enough acts of popular hate-crime, and the climate of fear and paranoia they have instilled in the country can only encourage this old, very old american viral tradition of popular lynching and witch-hunting to manifest itself with such virulence and violence.
Any message or comments?